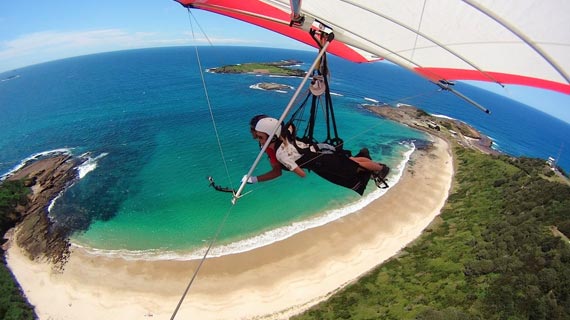 Hill 60 is a great flying site when the summer north easterly winds are blowing! Located just 25 minutes south of Stanwell Park, Hill 60 Wollongong boasts crystal clear waters, overlooking beautiful swimming beaches, the five islands of Wollongong and Big island, a bird sactuary just offshore.
So you'll be sharing the air with sea birds, large and small, and the north easterly winds make for warm sunny weather. Great hang gliding conditions, and we're the only school flying here.
Directions
For navigation aids or online directions please enter:
Port Kembla Lookout Hill, Military Rd, Port Kembla, NSW 2505
From Sydney, take the Southern Freeway (F6) past Waterfall and keep travelling south towards Wollongong.
At the bottom of the descent (Mount Ousley), continue past the Wollongong exit on your left, and stay on the highway, as it bears to the right. Remember, do not take the Wollongong exit (left).
Travel on the freeway until you reach the Five Islands Road Exit on your left (Exit No.155) for Port Kembla. At the traffic lights (50 metres), turn left onto Five Islands Road and continue on this road until you pass the steelworks.
As soon as you pass Blue Scope Steel signage, that is at eye level and on your left hand side, take the immediate exit to your left (Exit.155).
Five Islands Road then changes into Military Road. Stay on Military Road until you start an ascent towards Hill 60. At the end of the ascent, turn left and that will bring you to Hill 60.