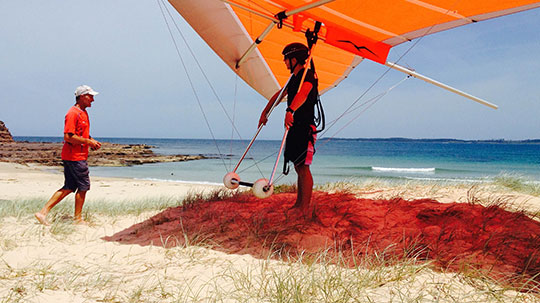 Learn To fly
Always dreamed of flying? Learn to hang glide with first-class team at HangglideOz. Instructing students since 1987, our courses are designed to get you flying quickly without compromising on quality instruction.
More
Enquire now
Hang gliding Sydney | Stanwell Park | Wollongong
Enjoy a bird's-eye view of the world
The spectacular Grand Pacific Drive
Reviews
Uplifting experience! ... naturally
Well that was great, A terrific thing to do and highly recommended to anyone who's considering stepping out into thin air. The whole team made the experience very enjoyable ... expert, friendly, highly professional in their approach and fun to be with. It was serene and exciting at the same time. High up there as a must do again. Michael D , Canberra
What a great experience!
I had family visit from Kuwait and decided to to hang gliding at Stanwell Tops. I was lucky enough to come across HangglideOZ and they had the best experience ever. The crew were friendly and made the experience all the more better. The weather was great and the pictures and video were simply amazing. My family had the time of their lives. G Zalaf, Sydney
Spectacular Seventieth Birthday
In seventy years of an adventure filled life, there is simply nothing to compare with the life enriching experience of hang gliding. It was a birthday gift beyond all expectations. As a bonus, I found that the term "Natural High" describes a long lasting reality. Felt like I was floating on air for the next few days! Deborah, New Hampshire, USA
Why choose HangglideOZ for your hang gliding experience?
Experience
Our instructors have 115 years of combined hang gliding experience. Hard to beat that experience anywhere in the world. They all form part of a dedicated team providing safe flights and delivering premium customer service.
What our customers say
HangglideOz has been ranked #1 on Trip Advisor and awarded Certificates of Excellence in 2016 and 2017. We are ranked the as the number one experience in the area since 2013. Why go anywhere else? Hang gliding is a must do for anyone visiting the area or those wanting to tick another experience from their bucket list.
Our Mission
We have been operating safely for over 35 years. Hang gliding is an experience of a lifetime and it is important to select the right company. We understand it takes courage and trust to complete your first flight. Our team are expert, professional and fun to be with. Our mission at HangglideOz is to make every hang gliding adventure awesome – especially yours
Milestones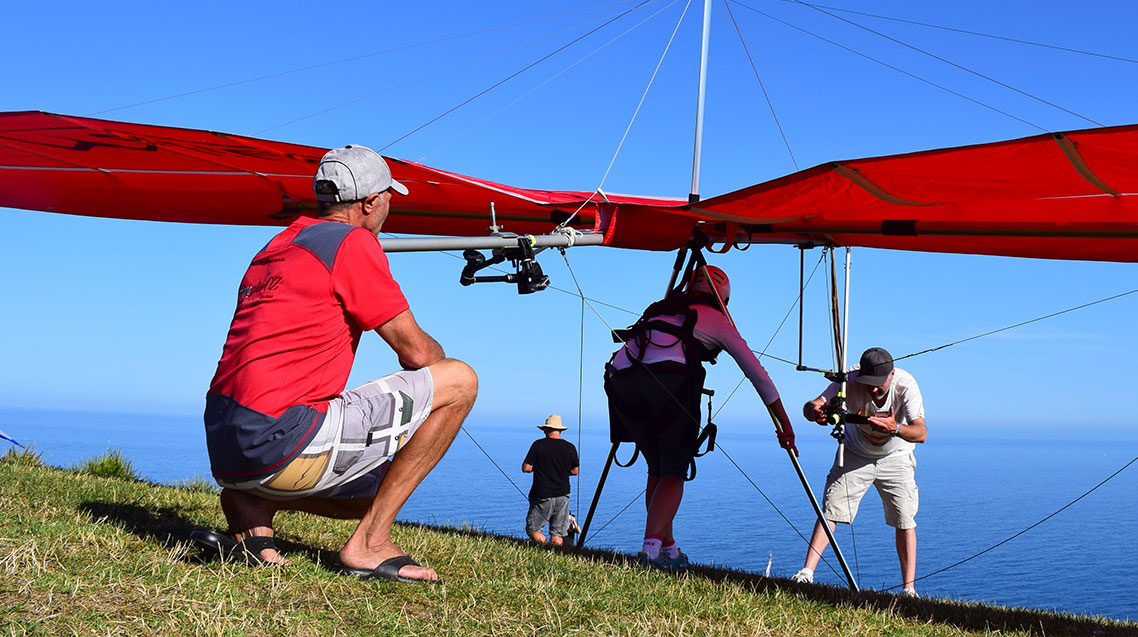 Qantas Inflight Video
In 2016, HangglideOz was selected to be part of the production of the Qantas Inflight Video. Hang gliding from Bald Hill was featured and Jorj Lowrey was selected as the hang gliding pilot. The inflight video showcased the area and sport and was viewed by an estimated 28 million people on Qantas flights worldwide.
Watch video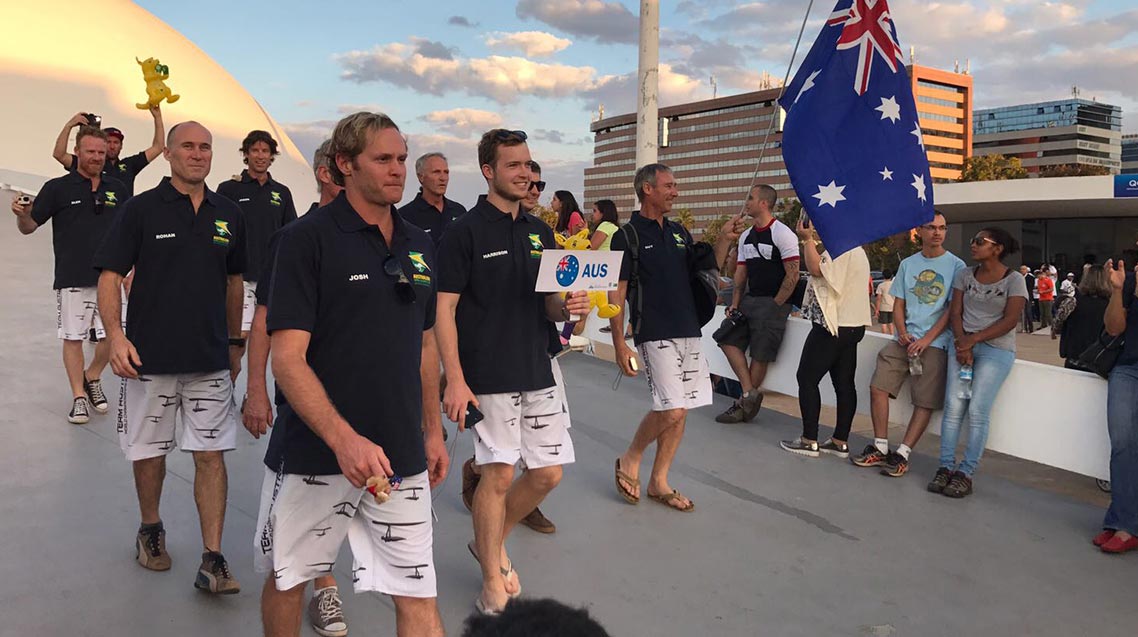 World Championships Brazil
Two of our instructors, Tony Armstrong and Rohan Taylor as well as Josh Woods, former hang glidng student, were selected to join the Australian Hang gliding Team to compete at the 2017 World Hang gliding Championships in Brazil. They flew with the world's best pilots in the spectacular Brasilia area.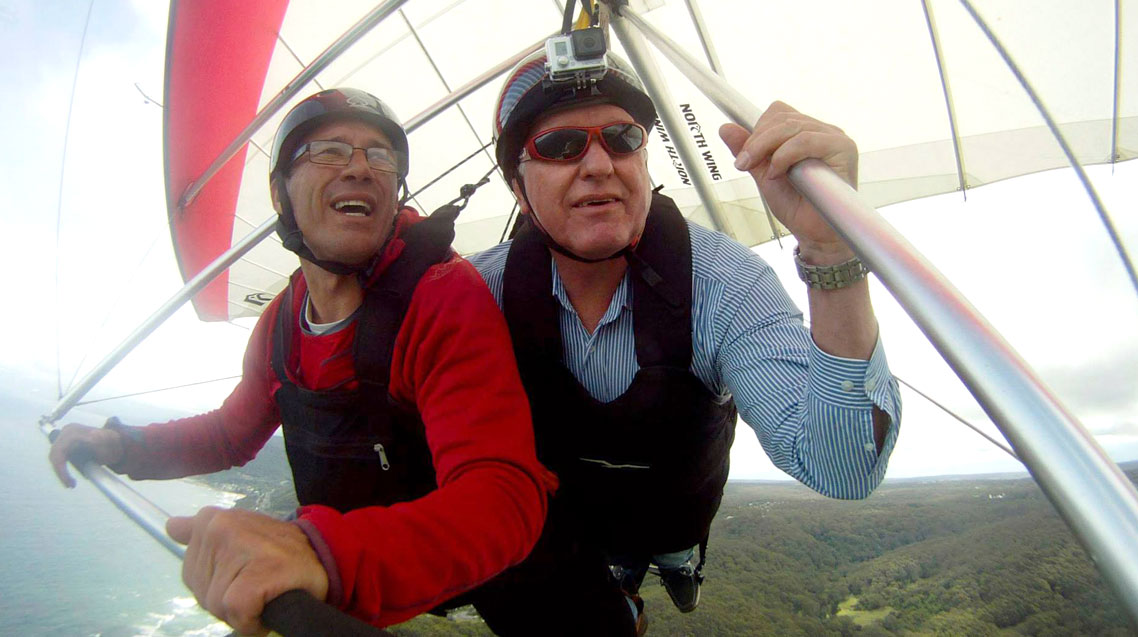 Descendants of Lawrence Hargrave Fly
Two descendants of Lawrence Hargrave, Stanwell Park's own famous aviation pioneer, flew side by side from Stanwell Tops. Father and son, Rick and Michael Colless, great grand nephews of Lawrence Hargrave, launched from the site adjacent to the memorial to Lawrence Hargrave with pilots Tony Armstrong and Chris Clements.