tony armstrong
Tony
, Chief Flying Instructor for HangglideOz has
been involved in the sport of hang gliding for in excess of 30 years. Before flying, Tony played 80 first grade rugby league games for Western Suburbs, Canterbury and Cronulla (1979-1986). After a successful football career he turned to hang gliding. His greatest achievements include winning an Australian Freestyle Hang Gliding Championship and a Daly M Award in 1984. Tony has taught surfing and snowboarding, has around 500 jumps with
SkydiveOz
and
Skydive the Beach
and is a Level 1 IKO kitesurfing instructor. His interests are his family, wine (especially
Wood Park Wines
) and kite boarding.
chris clements
Chris,
an integral member of the team, is a fully endorsed flight experience hang gliding instructor, as well as a experienced paraglider pilot. He enjoys the challenges of flying coastal sites and has flown more than 30 sites from Sydney's northern beaches down to Merrimbula. Chris is also an accomplished sailor, having completed four Sydney to Hobart yacht race.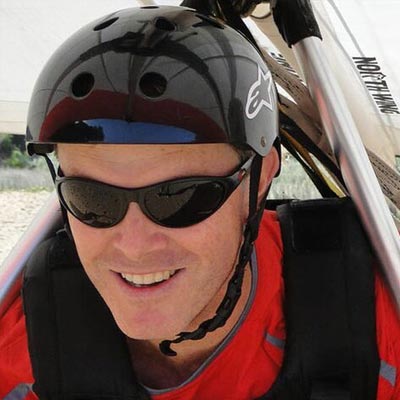 mark doherty
Mark
is now the second newest member of the team! Mark has flown hanggliders for many years in Australia and Europe and particularly enjoys cross country flying in alpine areas. He is also a keen" dune gooner" and spends many hours flying coastal sites. Mark, a former pilot with the RAAF, a veterinarian and a hang glider pilot, enjoys sharing his passion for flight with anyone keen to try the tandem experience at HangglideOz.
marty wielecki
Marty
once a professional photographer, now spends his working hours saving lives as a paramedic in the Sydney area! His passion is hang gliding and whenever the conditions prevail, he takes to the skies. Never one to be left on the ground.
ausilia cristiano
Ausilia
, HangglideOz's web site and publication designer, also joins the instructors on the hill to assist passengers with paperwork, equipment fitting, photographs and video. (Image: Ausilia & Jemima Puddle Duck).
greg obrien
Greg
is a mildly eccentric character from the South Coast. Formerly the front man for the Irish band, Fin McCool, he now spends his time hang gliding, surfing and making sustainable furniture from recycled materials. Also known as the future man! (Currently on sabbatical somewhere in Australia)
alan greene
Alan
makes a cameo role apearance from time-to-time. He joins the team to assist with ground logistics or something like that! We have not quite figured out what to do with him, but we are working on it!