trial introductory flights
Join us for your hang gliding flight from word-famous Bald Hill in Stanwell Park, 1 hour south of Sydney. During the warmer months, we also operate from Hill 60 in Wollongong.
Before your hang glide commences, our staff will assist you through paperwork, a briefing and equipment fitting. Take off is a few easy steps. Enjoy the exhilaraton of soaring with a magnificent birds-eye view of Grand Pacific Drive and the ocean during your trial introductory hang gliding tandem. During your flight you'll even have the chance to take the controls and hang glide on your very own! This 30 minute hang gliding experience will show you just how easy it is to learn to hang glide. It also serves as an introductory course for many people looking to learn how to take hang gliding to the next level. For detailed information on learning to hang glide,
click here.
With one of the world's most experienced tandem instructors you will experience the ultimate exhilaration of hang gliding. Chief instructor, Tony Armstrong has 30 years of tandem and competition hang gliding experience; unrivaled anywhere in the world.
We have provided hang gliding tandems for all age groups, from fourteen to Veronica Adams, Guiness Book of Records' Oldest Tandem passenger, aged 94. Passengers must be 14 years of age or over. We do have a weight limit of 95kg (Stanwell Park) and 85kg (Hill 60).
See why we are ranked No.1 on Trip Advisor
prices
$295 per person (weekends & public holidays)
$245 per person (mid week)
All prices include compulsory HGFA Insurance
Discounts available for group bookings
photos & video
Inflight Photos $45 (Go Pro)
Premium Photo Pack $75 (DVD)
Video $150 (HD quality, shared on Vimeo/YouTube/Facebook & a DVD mailedl)
learn to hang glide
HangglideOz has been teaching students to hang glide since 1987. For a detailed course outline and prices,
click here.


microlight flights
This year we are excited to offer 30 minute trial introductory flights in a powered hang glider when conditions aren't suitable for hang gliding at Stanwell Park. Powered flights are offered in conjunction with
The Sydney Microlight Centre
based at the Albion Park Regional Airport. Enjoy the stunning scenery flying over South Coast beaches, Lake Illawarra and the Illawarra escarpment. Experience an open cockpit and feel the wind in your face - free flying at it's best. Flights will be offered to new clients when the weather condtions are not suitable for hang gliding.
The perfect experience for couples wanting to fly at the same time*.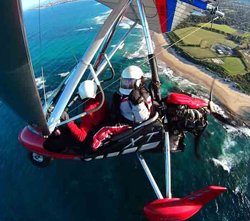 Our microlights are manufactured in Australia by Airborne Windsports and are amongst the best in the world.
(*dependent on instructor and aircraft availability)
.