It is easy to book your tandem hang gliding experience online. Please include your personal details below and select the appropriate fields. You can send the form to us via email or print and send a copy to HangglideOZ, PO Box 1 Thirroul, NSW 2515. Remember passengers must be over 14 years of age. In order to submit this form you must have a valid email account on the computer you are using.


Photos & Video Upgrade to a Premium Photo Package: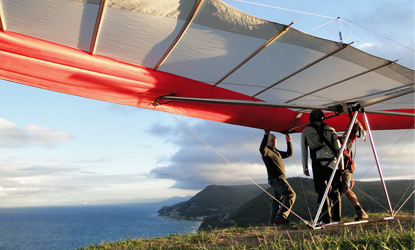 At HangglideOz we offer professional photographs of your tandem. The images are professionally edited with music and provided on a DVD for viewing on your TV or computer.
HD 1080 DVD:
All videos are professionally edited to your choice of music and and capture all the highlights of your tandem hang glide. We not only capture the flight with our onboard gopro, but a HanggldieOz staff member will also capture the take off, flight and landing from the ground.
Visiting Sydney?
" Visiting Sydney, Australia? The official Sydney website has information about accommodation, events, the latest deals and things to do in
Sydney
."
Testimonials
Ranked #1 on Trip Advisor
"Just received the DVD of photos from our flight. First wanted to thank you for a great day...we had such an awesome time. Felt very personal and we liked that. "
Brett & Michelle, NSW


"Very impressed by their organisation and enthusiasm a great experience. "
Tim, NSW
"The view was amazing as we floated through the sky over the cliff tops and out over he ocean. Am definately recommending this experience to my friends. Thanks for a great day..
"
Dale, NSW